Do you notice anything really stupid about this picture (the main one on the right)?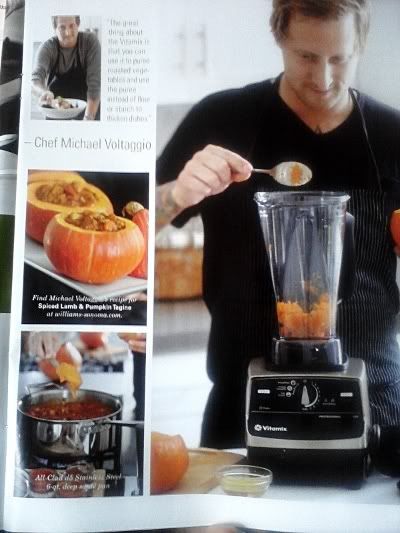 I got a Williams-Sonoma catalog in the mail the other day, and set it aside for later. This morning when I picked it up to scan through it, that picture was on the second page in, and my very first thought when I saw it was not, 'Wow, a Vitamix, sure wish I had one of those!' (That was probably my second thought), but 'You gotta be f'ing kidding me.'
I get that it's an advertisement for their blender and all, and you kinda gotta show the front of the blender to people, but still, do you have to get a chef (or anyone) to pose
behind
the thing, looking like he's actually using it like that? Because I'm pretty sure noone who uses a $600 blender would stand behind it and give it the ol' reach-around treatment. I could be wrong about that, but I'm pretty sure that's the case. Who knows, though? Maybe I'm just jealous because I can't afford a $600 blender. Maybe if
I
had one I'd be posing shirtless with it, wrapping my arms lovingly around it from behind and looking into the camera like I'm doing a scene for some tawdry culinary soap opera? But unless Williams-Sonoma or Vitamix would like to sponsor that little piece of heaven by, I don't know,
sending me a free Vitamix Pro or something
, I guess we'll never know for sure. So I'm sticking with my original (and totally not bitter or resentful or anything) judgment that it's a stupid photo.