(This one comes under the "other stuff" part of the title of this blog...)
Years ago when I lived in Chicago some friends and I came upon the opportunity to make some extra cash by cleaning out the basement of a little old lady who lived alone. Her husband had passed away some time before and she needed some strong young men to rid the basement of its trash and treasures. And there was a lot of both. I don't think they threw anything away at any point in their lives. After the basement, we ended up cleaning out the attic. And then her husband's old bedroom. And then the garage after that. What we thought at first would be maybe a week's work for the three of us turned into at least a month and a half. At least. She let us keep almost anything we wanted, so we sold a lot of stuff for even more extra cash, and kept some stuff for ourselves. Ten years later, the one thing I still have is this old letter I found among her husband's stamp collection.
It's dated April 15, 1848.
Though it's three pages long (one piece of paper), all these years I've had it I've never read more than just part of the first page. Finally last night I got it out and read it all. There's nothing terribly remarkable about its contents- just an ordinary letter from one ordinary person to another.
But it was written in 1848.
It's difficult for me to even imagine. Everything that we know and take for granted today is worlds apart from back then. Never mind cell phones and computers-
ink-filled pens weren't even commonplace yet.
(Makes me wonder what the world will be like 150+ years from now.) It's not sealed in an envelope; it's simply folded and addressed, without even a zip code. (Had those even been invented yet?) There is no stamp, just a "5" in the corner where the stamp would be.
As average and uninteresting as it may be, I find it fascinating and moving. Which is why I want to reprint it here. I've done my best to reprint it as accurately as possible. I'm confident that all of the words are as they were written on the paper- the ones I wasn't sure of I've noted with [brackets]. Some of the punctuation was left off - including a couple "?"s and several "."s - but rather than insert them where I thought they should be, I left as is. (The pics aren't that great, I know, but for now it's all I got. Someday when I get my Canon 40D I'll upgrade them.)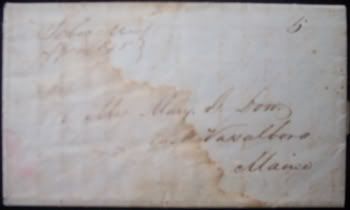 The return address simply reads "Sebec Me April 18", and it's addressed to "Mrs Mary G. Dow. East Vassalboro Maine"
Mrs. [P]Rice Dow
Your favor of 27 July was duly recieved. The reason of my not calling on you is simply this. I wrote you last fall before I left home desiring that you would acknowledge the reciept of the letter by writing to me at Boston. After waiting some 3 or 4 weeks I wrote you from Boston and recieved no answer. This led me to believe that you had left and I was somewhat suprised to hear on my return home that you were still at Vassalboro. I could have called that way with but little delay in time and had I known you had been at home I should have done so.
The factory has been stopped since I went away last Nov- and I probably shall not start up till June when the new clip of wool comes off. Almost all the flannel mills in Massachusetts are stopped and I was advised a day or two ago that none had as yet commenced operations again and they will not probably do so till June. It was quite a lucky thing for me that I had suspended operations. The times never were so bad as they have been since then for manufacturing since factories first started in the country. We ought to have some good times to make up- I have quite a quantity of goods on hand and have not sold any since last Nov.
The Note to Hobart in the hands of Silas Paul- has been contested successfully- and I am happy to assure that we have obtained the judgement. Everett charges very high for his services. Considering the little inconvenience he was put to. Examining no witnesses and probably the whole time he spent would be but a few hours. His charge is twelve dollars ($12.00). I am rather short of funds now owing to the dullness of business- I will take the earliest opportunity to settle with and pay him and the balance to you. I will remit a call and give into your own hands when I can make it convenient- I should like to hear if you are in want of it. write me in receipt of this to that effect.
I should like to hear how Catherine (Litte Kate) gets along attending Quaker meetings. Whether as much mischief beams from her little black eyes. She promised to write me but it appears she forgets promises to me. How is Hannah and is she as evil as ever and does she try her mothers patience as much as she formerly did-
I thank you for you well wishes for my welfare and prosperity. I wonder what could give you such ideas of my intentions what could put it into your head that I had been choosing a companion- I am however I suppose should for as soon as times become better. though it may be a long time before I become a married man- You have never seen my intended choice and she has never seen Sebec- and in fact only once set foot in the State of Maine. Her hair and eyes are much blacker than Kates- I wish Kate could be with her awhile. She would perhaps obtain considerable knowledge of fancy needlework which Kate delights in if I recollect aright. Everett and Angela have made all up and I am told that he makes nightly visitations across Pleasant River. I hope now she will stay put and not cause him any further trouble. He is I am told getting out a house [unintelligible] I suppose by that that things have got pretty well along- I saw her just before I went away last fall. there was nothing between them then- I had quite a talk with her on various subjects. She denied flat enough ever having made any statements about me which you know were laid to her charge. She was very civil and obliging and friendly as well as her father and mother- Mrs. John [unintelligible] lays at the point of death in the village- Mrs Walker's family are quite well. How should you like to be again in the old Boarding House and her neighbor. Henry is at Bowerbank- He went to school all winter. the first part he studied well and the latter it was quite too warm for him. My best respects to all your family.
Yours Truly
R. W. Robinson
Write in the receipt of this and tell me how you are getting along with your eyes- whether you enjoy yourself as much better than you did here as you expected. Whether you ever expect to live in Sebec again.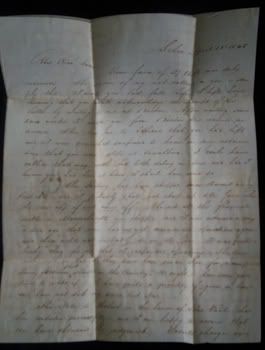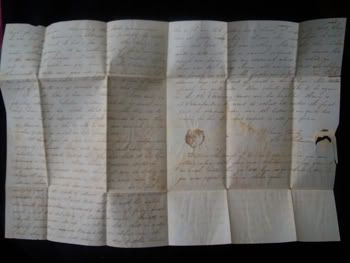 The round spot in the middle looks to have been from some sort of wax seal, though I'm not positive