Ah yes, Thai coffee. If you've ever had it before you know how awesome it is. If you haven't, seek out your nearest Thai restaurant pronto and order yourself one. They are
incredible
. I've been on a Thai coffee kick for the past couple weeks, working on a good recipe, and I think I've gotten it down. This is some of the best, if not the best, Thai coffee I've ever had. Rich and thick and almost chocolate-y (even though there's no chocolate in it). It's hard to stop drinking it.
The only ingredient that's not readily available in grocery stores everywhere is the actual Thai Coffee grounds, but if you don't happen to live in a town with a decent ethnic mart you can always find it on
Amazon
.
Here's what you'll need-
Heaping 1/2 c of Thai coffee (Not instant! And I've been using, and recommend,
Pantai
)
3 c water
1/4 c sugar
1 1/2 t ground cardamom**
2 egg whites (I know what you're thinking, but trust me!)
Pinch of kosher or sea salt
***
1 can sweetened condensed milk
1 can evaporated milk
Whipping cream*
Mix everything but the two milks and the cream together in a large saucepan over high heat, stirring occasionally until it just comes to a boil. Let boil for several seconds, or until the coffee foams up to the top of the pot (I use a 3qt. pot), then remove from the heat and let sit for 15 minutes. Strain through a fine sieve or cheesecloth, then stir in the condensed milk and evaporated milk. Let it cool down completely in the fridge (it should be cool enough after adding the milk that you can just put it in right away without affecting the fridge temperature). When it's nice and cold you just pour 1/4 c cream into a glass, followed by 3/4-1 c of the coffee mix (or vice-versa, whatever). Stir thoroughly and add lots of ice. Take a long sip and prepare to be blown away.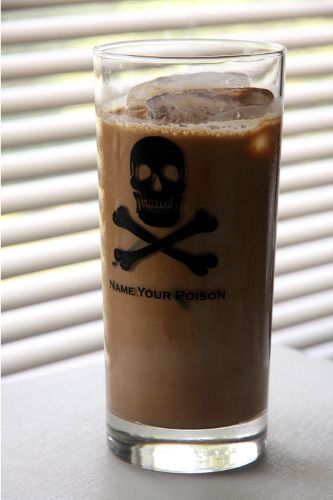 ***
Ok, egg whites? Yeah I know, seems kind of odd, but
do not
skip out on them. I made this several times before remembering that adding an egg white can really smooth out your coffee, especially if you're going to be boiling it. (Some folks also add egg shells, I've recently learned.) So I tried it with the egg white and the difference was quite noticeable! The coffee I'd made before was definitely very good, but the batch I made after adding the egg whites to the mix was downright exceptional!
* The type of cream you use does make a difference. You want plain old 'whipping cream,' not 'heavy whipping cream,' not half and half, and definitely not anything 'lite' or lowfat. If you're unsure if you have the right kind or not, check the nutrition label- what you're looking for is 4.5 grams/fat per Tbs. I've tried creams with 3 (half and half), 4.5 (regular whipping cream), and 5 grams (heavy whipping cream), and the 4.5 seems to have the best balance of everything. The half and half is too light and the heavy whipping cream is too... well, heavy. It leaves your tongue kind of feeling coated with fat. If all you can get your hands on is heavy cream, just dilute it slightly with milk or half and half.
** UPDATE- I just made another batch of the stuff and upped the cardamom to 2 teaspoons, as well as added a couple grinds of fresh black pepper. Totally the best batch I've made yet, by far. All of the other stuff had a chocolate-y taste to it, as I've mentioned, but this latest batch had more of a caramel-y flavor going on (which I definitely prefer). I've also tried Honey Bee brand Thai coffee, which has sesame seeds in it (and maybe one or two other things that the Pantai brand doesn't have, I can't remember and I don't have the label to check), and I'm thinking I like that even better. I don't know that it was the defining factor in this batch (I think probably not, since I used about half of each kind) but overall I think it's at least as good as Pantai, and maybe even better.