Usually I hate it when I lose something I was working on (like a recipe) and have to start over from scratch, but in this case it worked out pretty well. What happened is that a couple months ago or so, I came up with what I thought was the best rice and beans I had ever eaten. Actually, it
was
the best rice and beans I'd eaten- at that time. (There was one time before that, but I never bothered to write anything down, so all I had was an awesome dish with no accurate way to re-create it.) And this time, luckily, I actually managed to write everything down as I made it so I'd be able to re-create it any time. But unluckily, I stored the main copy of the recipe in my Gmail account, thinking it'd be about as safe there as anywhere. And actually it
was
pretty safe there, so I erased the copy I had on my dry-erase board in the kitchen. But in an effort to clean up my Gmail, I
completely
deleted a whole bunch of emails, accidentally including the red beans and rice recipe, among a couple other kind of important recipes. (Even though it's unlikely to ever happen again, I'm now using
Backupify
again. I used to use it a long time ago when it first came out- thankfully, because that means it's still free for me- but didn't really see the need for it, so I stopped.) So there went my most-bad-ass-ever recipe for red beans and rice. But I figured since I'd done it once or twice before, I
might
be able to do it again. And not only
did
I do it again, but I think this one is even better! So yee-haw for happy accidents (though I'm still sticking with Backupify).
What you'll need:
3 c dry pintos or red beans
7 c water
1lb bacon (minus what you eat after smoking it, because it's so damn good) + drippings
2 smoked pork hocks/pig's ears/whatevers
A couple jalapeños and cayennes (if you like yours a little spicier)
2 each guajillos and pasillas de Oaxaca*
3 T chopped chipotles in adobo (I highly recommend La Costeña brand)
3 T chili powder
3 T toasted cumin
3 T granulated garlic
2 T paprika
2 T mild jalapeño-lime blend**
2 T cider vinegar
2 T dried epazote
2 T dried cilantro
1 T onion powder
1 T oregano
1 1/2 t sugar
1 1/2 t coarse sea salt
1 t thyme
pinch of dill
several grinds of black pepper
1 can of no-salt-added diced tomatoes
1/2 can of tomato paste
1 can of beer
6 T Louisiana hot sauce
2 T Valentina hot sauce
1 ea. red bell pepper and yellow onion, diced
fresh cilantro and/or green onions (and more Valentina) for garnish
Take your raw bacon (high quality or cheap-ass store brand, it really doesn't make much difference in this case) your smoked pork/turkey/whatever parts, and smoke them again. Really, fire up the grill, load on the wood chips and smoke the hell out of those suckers! Make sure you have some sort of drip pan underneath to catch all of the drippings. If you have a big enough grill and can fit it all on, I'd also recommend smoking your chile powders, cumin, salt, pepper, etc. I don't have a big enough grill to do it all at once though, and by the time the bacon and pork is smoked to the point where I want it to be, the wood chips are spent and I don't feel like doing it all again.
It's almost impossible to oversmoke the smoked pork parts, but I suppose you could, in theory, overdo the bacon since this involves hot-smoking and letting it go too long will result in burnt bacon. I let mine go until it's dark brown and crispy. I've burned the smoked hocks before, but it was only superficial and after cooking down in the beans awhile they were as tasty as ever. Bacon being so thin, however, that wouldn't work.
Next come the beans. I have a pressure cooker (Presto, 8 qt.) so that's how this recipe was written. If you don't have one, then cook the beans however you normally would, soaking them overnight or whatever. But with the pressure cooker, I never bother with that. Take the unsoaked beans, add the water, smoked meats, guajillos and pasillas (and the other chiles, if you're using them) and add it all to the pot. Bring it up to high pressure, then turn down to low pressure and set a timer for 21 minutes. When the time's up, release pressure using the cool water method and return to the stove over med-low heat. (When you open the pot, it'll probably look like there's not nearly enough liquid, but once the beer, hot sauce and tomatoes come into play, it'll be perfect.) In a separate pan, sauté the pepper and onions until they're brown and crispy, and deglaze with some of the beer. Scrape it all into the beans, pour in the rest of the beer and wet ingredients and add all your dry seasonings. At this point you just let it simmer away happily on low to med-low for awhile, either until the beans are completely softened up (if they weren't already after the initial pressure cook) or for at least a good 20-30 minutes. While that's going, get your rice cooking and have a few more beers. Speaking of which, every time I've made this, I've used el-cheapo Genesee Ice ($2.99/6-pack!) and it's always come out amazing. I can only imagine how much better it would be if I used a better beer. Then again, if you have to pay for beer, is there a better one than the one that costs $3 for a 6-pack? I'm not sure.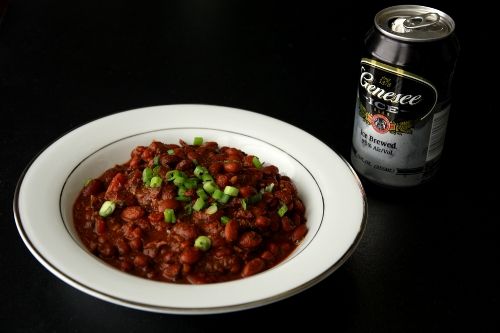 * Pasillas de Oaxaca... not the same as regular pasillas (pasilla negro). Pasillas de Oaxaca, as the name suggests, are from Oaxaca. I don't know much more about the differences between them other than the Oaxacan version is very smoky tasting (which is why I like them) and much harder to find, therefore more expensive than the regular. Like 3x more expensive. Last I checked, they go for around $30/lb. They're
so
good though. Definitely worth trying out.
** Mild jalapeño-lime blend. It's a custom spice blend I make, most often to put on tortilla chips, but it goes well in stuff like this too. Not available for sale anywhere yet, but it will be soon, so stay tuned for that announcement. But if you don't want to buy it, I'd just sub some canned green chiles and fresh lime juice.