On the left, garlic I planted last fall from some everyday store-bought stuff. On the right, the everyday store-bought stuff. The stuff I planted was *not* elephant garlic, it was just the plain old white kind you see everywhere. The stuff on the right is about average sized; not the biggest I've seen from store-bought, but not the smallest, and these were the biggest I could find out of the package (ready-peeled stuff from the local Asian-mart). Not all of the garlic I planted came out as big as those on the left, but even the smallest ones were larger than the largest ones I could find from the store-bought stuff.
What's more, I even let this particular plant go to flower, which I'm told you shouldn't do so the garlic can concentrate all the nutrients on the garlic itself, not divide it up between the bulb and the flower. But I wanted photos...
Growing your own garlic has the added benefit of fresh garlic scapes, which I'm told are fabulous (I've heard garlic scape pesto is amazing). I'm going to find out soon enough myself.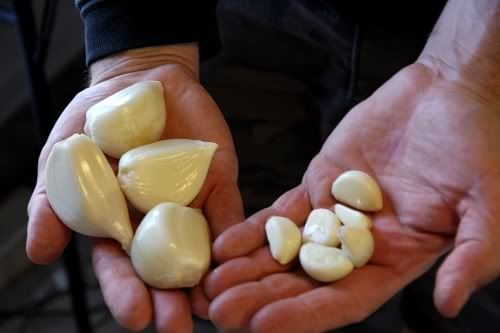 The flower of the home-grown garlic: