So I just whipped this up for dinner tonight, and it was way, way too easy to be as good as it was. I've been messing around with barley for lunch at work a lot lately because we've got a ton of it and hardly ever use it for anything. So since I had to skip lunch at work today, I brought part of it home with me and threw this together-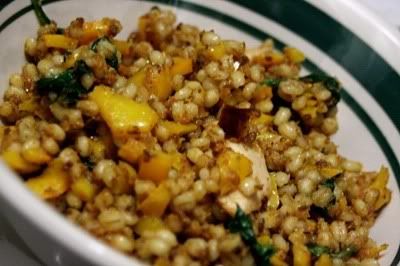 Super, super simple. No exact measurements were used or are needed here, but this is what I used for ingredients:
Cooked barley
Cooked, shredded chicken
Fresh spinach (hopefully E. Coli-free. I'll find out tomorrow, I guess)
Diced yellow bell pepper
Fresh ground coriander & cumin
Sun-dried tomato paste
Kosher salt
Granulated garlic
Cooking sherry
Extra-virgin olive oil
Chicken stock (optional, but tasty)
Heat up your fry pan nice and hot, splash in a couple glugs of the oil and saute up the bell pepper. After a minute or two, add the spinach until it starts to wilt, then add the barley and chicken and cook for another minute or so. Push it all to the outer edge of the pan and let it get really hot again, then douse it with the sherry and give it a couple good stirs to thoroughly mix it all together. Sprinkle on a hefty dose of coriander, cumin, and the garlic (fresh garlic would have been ideal, but I was too pressed for time to chop any, so I went with the granulated), add a couple pinches of salt, and you're good to go. Sun-dried tomatoes (or paste, in my case) add a nice touch of flavor. I think preserved lemon would have been tasty too, but I was already planning on adding the chicken stock and I wasn't sure if it would clash or not, since this was leftover stock from when I made
Pho Ga
the other day, so I held off on it. (I think I'll try it next time.) Even though that Pho recipe needs a little tweaking, in my opinion, the broth from it goes
really
well with this barley dish-
Very good stuff. And it's pretty quick to make, too- since I had the soup stock handy, and the barley and chicken was already cooked and the pepper diced, it took less than 10 minutes to dish this up.
Definitely worth making again.