It all started with a trip down the spice aisle of my local Target store awhile back. I almost never buy my spices at the grocery store since they're so much more expensive than online (links at the end) or even at my local co-op (some of the grocery stores in my area have a decent bulk section where you can get spices a little cheaper than the spice aisle, but the quality isn't quite as good as what you'd find online, not to mention the selection far more limited). Anyway, as I was walking down the spice aisle, I happened to notice these little colorful cardboard containers of stuff so I stopped to check them out. One of them was called Moroccan Tagine. Sounded interesting, so I read the back of the package. It called for mixing the spice mix with stuff like chicken, coconut milk, dried apricots, diced tomatoes and some other stuff. So then I started reading the list of ingredients in the spice mix and was really happy to see that everything in it was actually listed, i.e. no generic 'spices' listing. I figured if I was going to pay too much for a packet of spices I at least wanted to know everything that was in it so that if I liked it I could try to come up with my own version for less. So I bought it and made the recipe that was on the back. It was pretty good and I've always planned on making it again using my own version of spices, but I've just never gotten around to it. I did, however, start looking around online for Moroccan spice blends and recipes. I found various recipes for
Ras El Hanout
and
Preserved Lemons
, but never would have imagined that that trip down the spice aisle at Target would have led to coming up with
the salad
that I posted about recently, or today's recipe. (Oh and stay tuned for the Moroccan Chicken Sandwich I have coming next month- it's freakin' delicious.)
Moroccan-Spiced Granola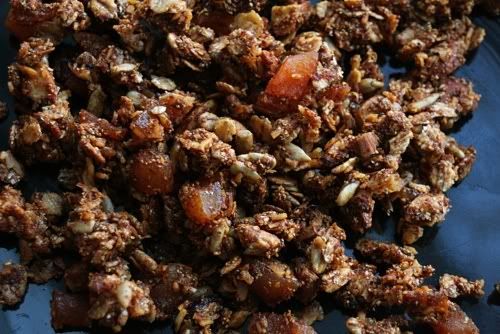 This recipe is the result of only the third time I've made the stuff, but I tweaked it a little each time and I'm pretty happy with the result. I think at this point the only thing I might change overall is to add some more almonds to the mix. (It's kind of a long list of ingredients, but it's still a pretty simple recipe.) It's definitely a different flavor for granola, one that I don't expect to be seeing at my co-op anytime soon, but I like trying different things. If you feel the same way, give it a go.
1 c rolled oats (or wheat, or barley)
3/4 c chopped toasted almonds
1/2 c unsweetened shredded coconut
1/3 c sunflower seeds
3/4 c chopped dried fruit (I used 1/2 c apricots, 1/4 c raisins)
1/4 c granulated orange peel
2T paprika
2T sumac
1 1/2 T ea. cardamom/coriander/cinnamon (ground, of course)
3/4 t ginger
1/4 t cloves
1/2 t allspice
1/2 t cayenne
***
1/2 c honey
1T lemon juice
1T sugar
1/4 t kosher salt
1/8 t baking soda
1/2 preserved lemon
1T coconut oil
Mix all the dry ingredients thoroughly in a stainless mixing bowl. Combine the baking soda, salt, sugar and the wet ingredients in a small saucepan and heat to a simmer, stirring occasionally to break up the preserved lemon (I had good results just using a wooden spoon, but I'd imagine a wire whip would work even better. Or you could just chop them up with a knife beforehand, which I didn't think of doing). Should be ready in under 10 minutes, but I'm thinking letting it bubble away on low for a little while longer will really help infuse the honey with the preserved lemon flavor. Once you decide it's ready, just pour the honey mixture over the dry stuff and blend thoroughly. Spread out on a greased cookie sheet and bake on 225 F for about 20-25 minutes, stirring halfway through. It'll still be pretty soft when it first comes out, but I wouldn't go longer than 25 minutes, otherwise the fruit tends to harden. Once it cools, it should get nice and crunchy, but if it's not crunchy enough for you, you can always throw it back in the oven for a bit.
(I forgot to make a note of how many cups this ends up making, but I used the 11 1/2 x 11 1/2 tray from my toaster oven, greased with coconut oil, and it
mostly
fit on that- there was a little overflow, but mainly because the tray is only 1/2 inch deep.)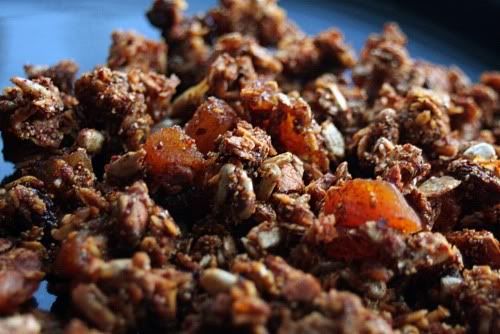 Pretty darn good as it is, but I've been eating it mostly as a breakfast cereal. Damn tasty that way. Probably good in yogurt and ice cream too.
Ok, some notes-
1. When I compare this recipe to other granola recipes I've seen- this one has a lot of spice mix overall. It's definitely not
overpowering
on the spices (at least, I don't think so) but there is kind of a heavy coating of the stuff; my recipe calls for only one cup of rolled grain with entire tablespoons of some spices, whereas other recipes I've seen call for 2-3 cups of rolled grain with mere teaspoons of spice. So if you're not sure about using so much, I'd recommend mixing up all of the spices separately from the oats, fruit, nuts, etc. the way it's called for and then start by adding half or whatever amount looks good to you. Me, I'm really happy with the way it came out and plan only minor tweaks and edits.
2. Sumac- I don't really know how to describe it's flavor other than that it's tart; it has kind of a vinegar-y, sourdough-starter flavor to it. If you can't find it locally, you can always get it at the spice links I'll be posting at the end. I hate to say that it's 'optional' but if you don't want to/can't buy any, it probably won't radically change the outcome.
3. Baking soda- I'm not really sure it's necessary. I just put it in there because when I've made nut brittle and similar stuff in the past it always called for it, so I figured it might help with the crunchiness factor a little bit. Up to you.
4. Cayenne- At only 1/2 teaspoon, I really don't think this is too much, even for your friends with wimpy taste buds. It really is a mild, mild heat. I highly recommend not leaving it out.
5. Preserved Lemon- I wasn't really sure about this at first, so I left it out of my first two attempts at making this, but now that I've tried it, I can't recommend it enough. It really, really adds a nice, unique flavor to it that you pretty much can't get any other way. They do sell commercial preserved lemons, if you happen to live in a large, ethnically diverse city, but last I checked they tend to be pretty expensive. They're dirt cheap to make though- all you really need is patience, since they take at least a month (but they last pretty much forever). The granola will be fine without them- but
with
them, it'll be on a whole new level.
6. Dried fruit- Any combination of your favorite dried fruits will work (probably not Craisins though. I don't think those should really count as dried fruit). I've used figs and dates as well. Oh, and if you have a Walgreens in your area (pretty likely unless you live in a desert cave somewhere) I've found that they have excellent- and I mean
excellent
- quality dried fruits. They come in little 4-7 oz. boxes for $1, and the brand is Deerfield Farms. Walgreens! Who'da thought, right? But the quality of the figs I've gotten from them absolutely blows away what they're selling (for a lot more $$, I might add) at my local co-op, and they're even better than the stuff I can get at work from US Foods (which I had thought was excellent). It's not just the figs, though; their dates and apricots are excellent too. Worth looking into next time you need some dried fruit.
7. Coconut Oil- I'm not sure it's necessary either; at least not in the honey-lemon mix. I've seen recipes that call for some sort of oil in with the honey/corn syrup/sugar mix, so I went with it. You could probably just as well leave it out. As for greasing the pan, I just went with it for consistency. Pan spray would do fine too.
***
Spice links-
I generally get my spices online from these guys:
Spice Barn
MySpicer
Great American Spice Co.
Spice Barn is my go-to place because their prices are good and so's the quality (on most things, anyway. I can't recommend their honey powder). I really like the other two as well, but be aware that MySpicer tacks on a service charge for orders under $30, in addition to shipping. I'd recommend doing price comparisons on most things for all three too because some have better prices on things than others; there isn't one place that beats out the other two on price for everything.