Hello kids, and welcome back to another delicious episode of
How's it Taste?
Today we're going to make a magical salad, and I'm sorry to say, but no, it's not
that
kind of magic. At least not when I make it. What you put in it is totally up to you. I won't tell a soul, promise. No, the reason I call it a magical salad is because it reminds me of a couple times when I saw some magician on tv do a really awesome trick and I thought, 'Wow, that was really great, but how the heck did he do it?' and then he proceeded to show the audience exactly how he did it, and then I'd think, 'Man, that was so simple. Why didn't
I
think of that?' Well, in this case, I did think of it, and I love it so I want to share it with whoever happens across this blog.
In an effort to start eating healthier and maybe even lose some weight in the process, I've been cutting out the potato chips with lunch 5 days a week, and substituting some fresh veggies or salad. Most of the time it was just romaine and tomatoes with some salt and pepper and a light dressing of some sort, but then one day at work I threw together the following:
cucumbers, seeded
tomatoes, seeded
avocado
kosher salt (sea salt is awesome too!)
black pepper (preferably coarse)
cilantro
rice vinegar
Magic! That's how good it was! You should totally try it, you
won't
be disappointed.
Normally I just throw it all together and go with it, but since I decided to post this here, I actually kept track of the cukes-to-tomatoes-to-avocado ratio, and ended up going with the following-
1 medium cucumber
2 largish roma tomatoes
1 avocado
(It's enough for one decent-size salad. I ate the whole thing in one go, but you could make a side salad for two with it.)
Peel the cucumber, if you like. I do those alternating peels you see on the cucumber rings at salad bars and stuff-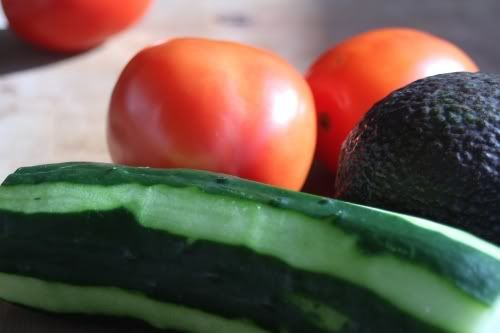 Seed the tomatoes and the cucumber, dice and mix up in a bowl. I think it's better to mix them together now before adding the avocado, so as to avoid mashing the avocado too much.
Dice up the avocado- here's how I like to do it:
In the skin, after you've removed the pit.
You just make a bunch of thin slices one way, then turn it 45 degrees and do it again, then you can scoop them all out with a spoon, lickety-split. I also recommend using a not-very-pointy knife, such as a butter knife or something similar, at least for the first couple of times until you get a feel for it. Using a chef knife, it's pretty easy to stab/cut yourself through the avocado skin.
Add a generous amount of salt and pepper and give a couple quick tosses with your fingers, then add some coarsely chopped cilantro and give a couple more. It's pretty damn good just like this, but you can take it to a whole other level by drizzling some rice vinegar over it too. I like it both ways, so I tend to eat half without, then add the vinegar and finish it.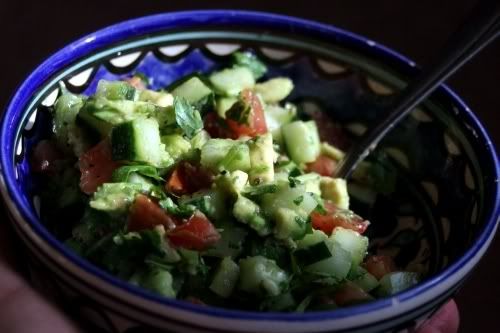 It's Super good and Super healthy- you control the amount of sodium, and it's fairly low-fat. I'm not sure exactly how much fat is in an avocado, but since it's considered one of the 'good' kinds, I have no problem eating as much of this stuff as I like. Try it out and see what you think. Also, if you're not a cilantro fan, give it a go with basil, or your other favorite herbs. I haven't tried anything else out yet, but I imagine they're just as good!
Until next time- if there
is
a next time- Bon Appétit!