I tried and tried to think of a catchy and/or funny name for these crepes because they are sooooooo good and I wanted something appropriate for the title in order to get peoples' attention and have them at least read the post so they'll hopefully try the recipe. I'm not sure I've succeeded with the catchiness, but at least it's accurate. Remember that shampoo/conditioner commercial (I can't remember the brand) where the where the woman is in the shower washing her hair, but sounds like she's, well, doing something else? I had auditory visions of that in my head as I was eating these things.
I think you will too.
(Oh, and if you think crepes are difficult to do, or require a lot of prep, think again. The hardest part about these is refraining from eating most of the white chocolate mousse before the crepes are ready. I've only been marginally successful.)
A lot of foodies like to toss around the term "food porn"; my photos don't live up to that label, but since I've got the recipe, who cares? And trust me, once you get your lips around these things you'll feel like you're in the video.
The script is as follows:
Crêpes
1 1/4 c flour
pinch of salt
1/4 c sugar (superfine, if you have it)
1 egg, lightly beaten
1 1/4 c milk
2 T melted butter
-------------
White chocolate mousse
3 T water
3/4 tsp unflavored gelatin
8 oz. white chocolate
1/2 c heavy cream, plus 1 c
Place 3/4 t gelatin in 3 T water- let stand 5 min. to soften
Place 8 oz. chopped white chocolate in medium mixing bowl
In small saucepan, bring 1/2 c heavy cream to boil, stirring constantly
Remove from heat, add gelatin. Stir for 30 seconds to dissolve, immediately pour over chocolate and whisk until smooth. Refrigerate chocolate mix until cold and thick enough to fall from spoon in a heavy ribbon.
Beat 1 c cold heavy cream until it holds a firm shape, then fold into chocolate mixture.
-------------
Strawberry Sauce
(or raspberry, or dark cherry, or a 3-way combo, if that's your thing)
This one I don't have a recipe for. I usually start off with about 1 c chopped fruit, 1 T sugar, and fresh lime juice, adding more of each to taste. Cook down in a small pan until it's to your desired consistency. Most recipes I've seen call for lemon juice, but I'm a huge fan of limes, and use them in place of lemons for almost everything that calls for lemons.



The Action:
Put flour, salt, and sugar in a bowl, making a well in the center. Pour the egg and some of the milk into the well. Whisk the liquid, gradually incorporating the flour to make a smooth paste. Whisk in the butter, then the remaining milk until smooth.
Add a few drops of oil to a hot frying pan or skillet (cast iron works well) - just enough to coat lightly. Pour a little batter into the pan, tilting until the base is coated with a light layer. Cook for 1-2 minutes or until the underside begins to turn golden. Flip and cook for 30-45 seconds, or until golden.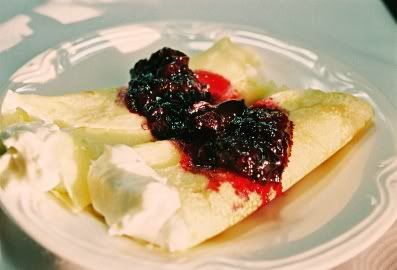 This is how I made them the first time, because that's how they had been made the first time I tried them (except the fruit sauce was on the side). But I've since found out that they taste just as good, if not better, and are
much
easier to make if you don't try and fill them with the cream filling...
Mmmmmmm.....
Some notes and thoughts-
I like sweet stuff, but not too sweet, so I usually cut the sugar in the batter down to 3 T, to help offset the sweetness of the white chocolate mousse. Also, even though the recipe calls for beating 1 c heavy cream, I usually do 1 1/2 cups; partly to cut down the sweetness of that too, but also because I usually buy the heavy cream by the pint, so I'd just end up with a half cup of cream left over, with nothing to use it for until I buy more for the next batch of crepes. In any case, I like the taste and texture of the extra half cup in the mix. It's a nice balance of creamy sweetness- not overly creamy or overly sweet. Also, with the white chocolate, you want to use something of halfway decent quality, not those artificially flavored baking chips. I used Baker's and it came out great.
You owe it to yourself to try these crepes. Even if you're on a diet of some sort- take a day off. Just make sure you've got the willpower to get back on it, because these things will fight hard against you.
After you've made these a few dozen times, you may want to experiment with different flavors of mousse- today I tried it with some Andes mints chunks instead of white chocolate, and sprinkled on top some of the fresh mint I've got growing. I think maybe it was a little too mint-heavy, and I really missed the fruit sauce, but I think maybe I'll try adding just a little of the Andes candy in with the white chocolate next time, or maybe just sprinkling some of the fresh mint on top. I also have plans to try it with a little dark chocolate.
P.S. I got the recipe, with permission, from Paula, who doesn't have a website or I'd link to it. I'm not sure if she's the originator of the recipe, but I'm going to assume she is.